Forget the Hot Girl Summer – this year is set for a cool Scandi girl summer. Hygge is back, but this time it is heatwave-friendly.
Oversized soft blazers and chunky sandals, white jeans and a logo-free, egalitarian take on style have made "Scandi chic" a fashion phenomenon. Max Mara – a brand so Italian that it shares a home town, Reggio Emilia, with parmesan cheese – held its most lavish catwalk show of 2023 in Stockholm city hall, as Scandi style challenges French girl chic as the aspirational look of the 21st century.
It was the place to be: Amy Adams brought her 13-year-old daughter, Aviana, Nicky Hilton brought her mum, Kathy, and Demi Moore brought Pilaf, her chihuahua.
Touring shows that take brands out of the comfort zone of their domestic market now dominate the fashion industry calendar. Generation Z consumers view the traditional four-city fashion week carousel of Paris, Milan, New York and London as an increasingly irrelevant relic of an outdated order. And with London and Paris currently sweltering in a stormy heatwave, the decision by an Italian giant of the industry to hold its most glamorous show of the year in Scandinavia instead of the Mediterranean may signal a shift in the zeitgeist that extends beyond clothes to other lifestyle choices.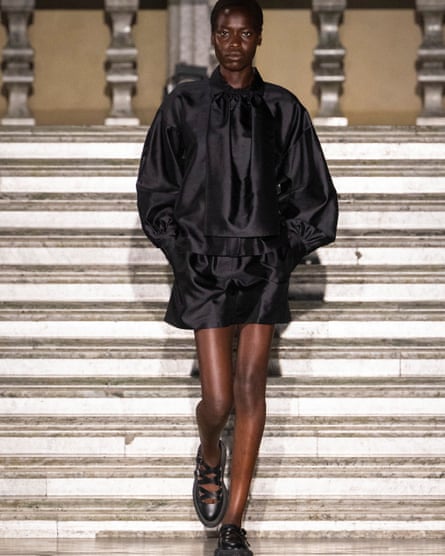 "I think going somewhere cooler in summer will increasingly be a thing," said Ian Griffiths, the British designer who has steered Max Mara for 36 years, before the show. "Do you really want to go on holiday to Spain when it's as hot as it is in London now?"
Hygge for the heat meant slouchy drawstring shorts, maxidresses overrun with tiny wildflowers, sleeveless jackets with silk tassels, and slinky dark vest dresses. A black-and-white poncho cover-up nodded to Sarah Lund's sweater in The Killing, the Rosetta stone of Scandi chic; paper flower crowns to the folklore and myths that swirl in the near-endless light of Swedish midsummer. Stockholm city hall is the venue for the annual Nobel prize banquet in December, and Griffiths said he had come to Scandinavia for its emphasis on design over surface decoration and for "a strong tradition of parity between the sexes", both of which chime with Max Mara.
"Even the Vikings sowed seeds of gender equality. Women did their fair share of pillaging," he said. Griffiths's fondness for esoteric references have earned him a reputation as the "Stephen Fry of the fashion world", which he says is only part-earned. "I get quite a lot of it from Google," he admitted backstage.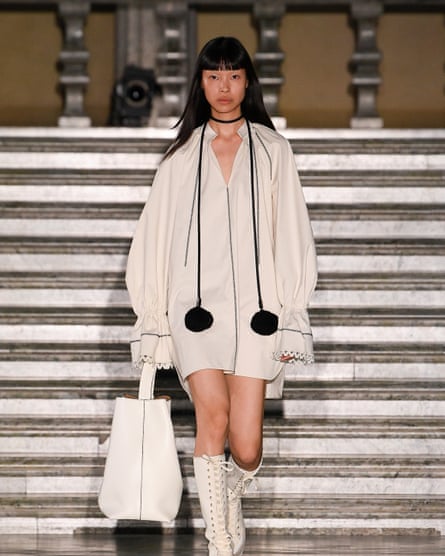 Max Mara's specific muse for this collection was Selma Lagerlöf: gay writer, suffragist and social activist – who in 1909 became the first woman to win the Nobel prize for literature. The fashion students Griffiths teaches at Manchester Metropolitan University "often have interesting intellectual ideas that translate into very complicated clothes", he noted. "Nobody wants to wear complicated clothes. Scandinavian design is happy, simple, but sophisticated. The trick is how you express complex ideas in clothes that people want to wear."
Griffiths, an ex-Manchester clubber who as a young new romantic once went to the Haçienda every night for six months, consistently teases out the quietly radical side of a brand that made its name by dressing women for work – a bold move, in 1950s Italy; which was one of the first designer names to have a plus-size label (Marina Rinaldi was launched in 1980); and has been a leader in diversity, one of the first labels to have a model in a hijab on the catwalk, in 2017.
Wear-forever clothes are buzzy in fashion now, as the industry struggles to adapt to a sustainability mindset, but at Max Mara they have been there all along. Camel coats have featured in every winter collection for more than 40 years – and for when the heatwave breaks, there were two in this show.