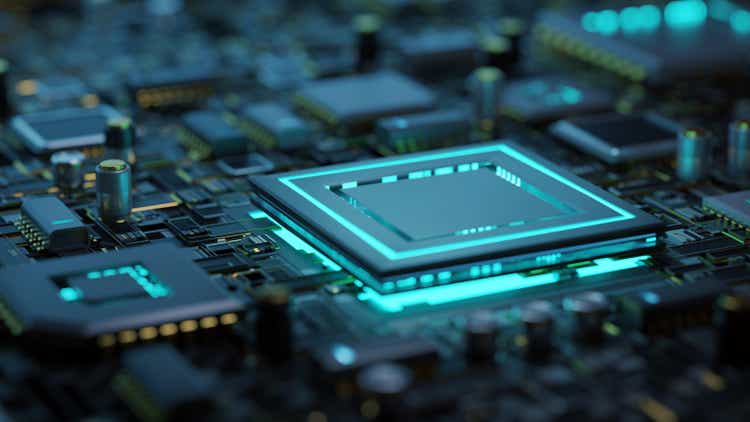 Investment Thesis
Marvell Technology (NASDAQ:MRVL) puts out a middle-of-the-road guidance for the next quarter. But what makes Marvell's investment case noteworthy is that Marvell highlighted how the quarter just reported should see trough profitability margins.
More specifically, Marvell contends that with each sequential quarter, Marvell's profitability profile should improve.
But the truly exciting aspect that is driving the stock higher is that Marvell's AI exposure is expected to jump 100% to around $800 million by fiscal 2025.
Why Marvell Technology? Why Now?
Marvell Technology is a semiconductor company that designs integrated circuits with a focus on providing solutions for storage. Its semiconductor solutions enable high-performance and connected technologies.
Marvell CEO Matt Murphy didn't shy away from the topic of the day, AI. On the contrary, Marvell declared that its AI exposure would rapidly accelerate throughout the rest of the year, leading to at least double the revenues next fiscal year.
To which, your first question should be, of what base? Marvell believes that in the current fiscal year 2024, its AI exposure should reach $400 million and will double to $800 million in fiscal 2025. Meaning that at least 10% of its revenues will be coming from AI.
Case in point, Murphy highlighted on the earnings call:
In large deployments, thousands of these systems [GPUs] are interconnected to form a data center sized AI cluster, and what's required to interconnect these systems is orders of magnitude higher than in standard cloud infrastructure.
In plain English, there's a multitude more connections required for AI data centers than cloud data centers, and Marvell is well placed to service that market.
Murphy continued:
Given the speed at which AI infrastructure is advancing, the technology refresh rate is happening at 18 months to 24 months versus 4 plus years in standard infrastructure.
Essentially, there's a nascent opportunity that is seeing extremely strong demand. And even if Marvell's exposure to this space is relatively small right now, there's going to be a massive acceleration in its growth rate over the next 12 months.
But the good news doesn't end here, because consider this quote:
In the future, we expect generative AI implementations involving video and images to provide a tailwind to overall storage and exabyte growth, both in HDD and Flash. However, it is difficult to accurately allocate revenue from our storage business specifically to AI. So, the AI revenue forecast I just discussed does not include any storage contributions.
In essence, while Marvell's direct exposure to AI is going to double in fiscal 2025, there could be an indirect need for its storage solutions that are too difficult to quantify at this moment.
Revenue Growth Rates Start to Stabilize in Fiscal H2 2024

Even though Marvell's fiscal Q1 2024 did beat on the top line and its outlook for the next quarter is a slight improvement from what analysts had been expecting, it's difficult to make the case that this set of results was particularly impressive.
Meanwhile, the bull case will be that all of the negativity investors had had for Marvell had been based on the expectations that its outlook was going to be challenging for some time.
After all, recall the context. Marvell's legacy on-premise storage had been weak for quite some time. Consequently, investors had been disenchanted with Marvell's prospects.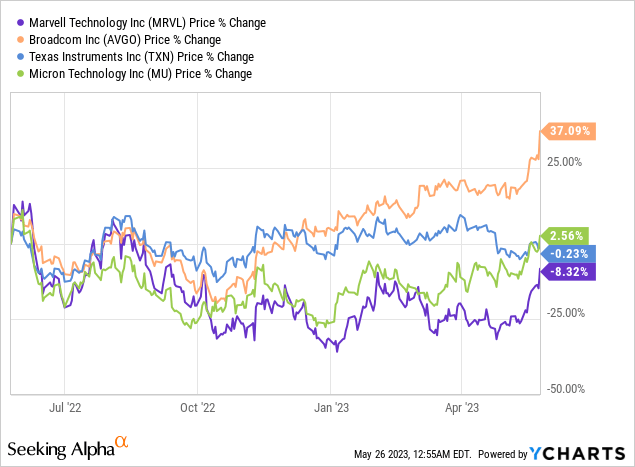 Moreover, as you can see above, Marvell had been the worst performer amongst its peers, being the only stock that had been down mid-single digits in the past year. The next worst performer had been Micron (MU), while the rest of its peers had delivered positive performances. Obviously, no need to even mention Nvidia (NVDA), right?
Profitability Profile to Improve Throughout Fiscal 2024
The market is always attempting to look ahead. So, even though the current quarter saw Marvell's non-GAAP gross margins at 60%, investors are optimistic that this will be the low point of its gross margin profile.
Indeed, next quarter's non-GAAP gross margins point to close to 61% at the high end. And management declares that fiscal H2 2024 will see further gross margin and operating margin expansion.
Needless to say, the combination of an alluring story, together with sequential improving fundamentals is something that investors were quick to latch onto and praise.
The Bottom Line
Marvell is not so cheap, at around 33x forward non-GAAP EPS, that investors are more than willing to buy the dip on its stock based on its valuation alone.
However, the combination of "yet another AI beneficiary" semiconductor company that has a compelling story, as well as pointing to meaningful improvement in the second half of its fiscal year, plus an improving profitability profile in the second half of this year, is something that investors are extremely keen to reconsider and bid higher.