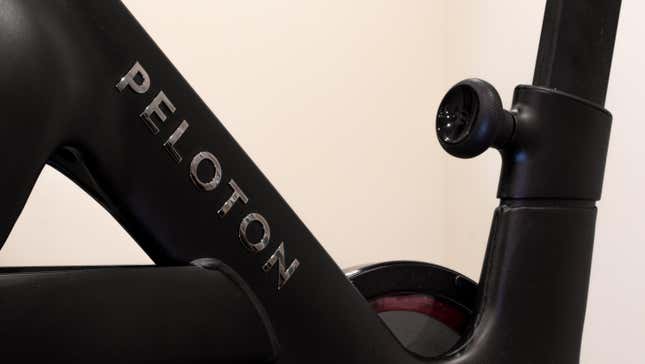 The company behind everyone's favorite pandemic purchase, the Peloton, is facing subscriber and financial backlash. Subscribers are pausing their memberships with the cycling tech amidst a recall over bicycle seats. And now the company has to answer to Wall Street.
Peloton Slashes Prices on Bikes, Raises Subscription Fees
CNBC reports that a May recall of 2.2 million Peloton bikes over their faulty seats is costing the company tens of millions of dollars—upwards of 20,000 members have paused their subscriptions over the recall as they wait for a new bicycle seat. According to Peloton's Q4 shareholder letter released today, the company revealed that 750,000 customers made requests for a new part since the recall was issued in May. In the letter, Peloton CEO and President Barry McCarthy said that this amount was "more than expected" and that only about half of those requests—340,000, to be specific—have been fulfilled, with the remainder to be fulfilled by the end of September.
"The cost of this recall substantially exceeded our initial expectations, leading to an additional accrual of $40 million this quarter for actual costs incurred as well as anticipated future recall-related expenses," McCarthy said in the letter. "In addition, an estimated 15 to 20 thousand of our 2.2 million impacted Members elected to pause their monthly subscriptions in Q4 pending the receipt of a replacement seat post."
On Wednesday morning, Peloton's stock price plummeted by as much as 20 percent and was on track to close at a record low for the company.
Peloton issued the recall in May, announcing that the post that connects the seat to the body of PL-01 model bikes will snap off when customers pedal too hard. The company said it received 35 reports of bike seats completely snapping off, while the Consumer Protection Safety Commission reported 13 accounts of customers receiving injuries spanning from lacerations to fractured wrists from falling off the bike. The PL-01 is the company's original model that put it on the map, having been sold from 2018 to 2023.
This is not the first recall that has plagued Peloton. The fitness company previously, and infamously, recalled both its Tread and Tread+ treadmills, the latter of which was involved in the death of a 6-year-old boy who got pulled underneath the device. Earlier this year, Peloton agreed to pay a $19 million penalty in a civil case settlement with the Consumer Products Safety Commission over the treadmill recall.