One Washington business owner is demanding action from the city's leaders over surging crime, as she continues to battle the costly aftermath of a string of break-ins. 
Carly Willis, who owns Antique Marketplace just outside Seattle, resorted to installing plywood and "hog wire" to deter thieves, but she said in doing so she has lost revenue in the process during "Fox & Friends First."
"Absolutely. I've lost plenty of revenue," Willis told co-host Ashley Strohmier when asked if the plywood deters customers. "I've lost many customers… On that same token, though, much of the community has rallied around us and we get calls and emails daily from people saying, 'How can we help?' And I just keep saying… shop small businesses right now because we're struggling. The crime is real."
COPS WALK HOMELESS WOMAN WITH BAG ON HEAD OFF BUSY SEATTLE BRIDGE: 'JUST ANOTHER DAY IN THE EMERALD CITY'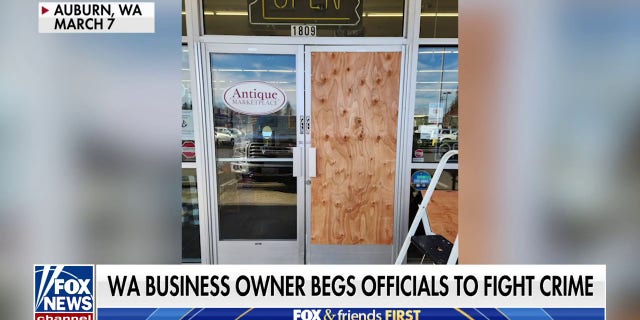 She told Strohmier the break-ins began last January, and she has accrued around $50,000-worth of damage in connection with the incidents since they began. 
Willis spoke during a city council meeting earlier this month, pleading with local officials to act within their jurisdiction to uphold the rule of law. 
"I'm calling on the mayor, the chief of police, to step up and do what is within your power to stop this madness. We, the people are fed up," she said during the meeting. 
Willis told Fox 13 last week that after meeting with Auburn police some changes have been made and she is "thankful" it seems to have curbed some of the crime. 
"The mayor called a meeting for all of the Auburn businesses, complete with her and the chief of police," she said. "We had a wonderful sit down and it felt like we were able to ask questions and get some answers. Ultimately… it has felt from the beginning like the buck keeps getting passed."
SEATTLE SHOOTING LEAVES 2 PEOPLE DEAD DAYS AFTER GOVERNOR SIGNS GUN CONTROL PACKAGE
"The mayor says, well, the police can't do anything, the police say, well, we can't do anything because of the laws… it comes down to the judges in our area not enforcing not upholding the law and the bad laws that have been passed by lawmakers here," she continued. 
Nonetheless, other storefronts in her area have also been impacted by thieves, and some companies have also resorted to additional security measures to protect their bottom line. 
That is where she got the idea to use "hog wire" as a means of deterrence. 
"Unfortunately, it's pretty common in Auburn to see, you know, plywood everywhere," Willis said. "I was actually at a locksmith right around the corner, and they had this hog wire over their doors and their windows, and I thought… that's a great idea, so I got one of our people to do that, and it worked out really well."
CLICK HERE TO GET THE FOX NEWS APP 
Some companies have started to discuss the idea of private security, but Willis said doing so is not in the budget for her. 
"We have, but as a small business, and I'm sure I speak to a lot of other small business owners, it's really not feasible," Willis said. "We operate on a relatively small margin compared to those big box stores and it's very difficult. We have discussed with our property manager taking some of the triple nets that we're currently allocating to security measures and putting them into another type of security."
She told Fox 13 she plans to work with other business owners in the area to present something to lawmakers during the next legislative session. 
"Washington lawmakers need to come back down to earth," Willis said. "They're definitely not here in Washington. Everything they have been doing as far as the Pursuit bill, the Blake bill, it's been an absolute nightmare for us business owners as well as citizens, and things need to change."