Only the Boston Bruins, with 65 wins, and Colorado, with 58, had more wins than the Leafs in 2022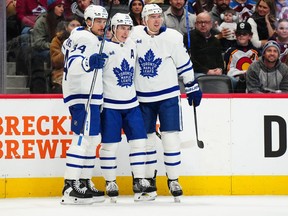 Article content
DENVER — Happy New Year, Leafs Nation.
Article content
Your favourite hockey team gave you something to savour on the final night of 2022.
Article content
The Maple Leafs spanked the defending Stanley Cup champion Colorado Avalanche 6-2 at Ball Arena on Saturday night, sending themselves and their passionate fan base into 2023 in a revelling mood.
The win marked the Leafs' best effort of their three-game trip, coming after an overtime win in St. Louis and a stinging loss in Arizona.
Article content
Importantly, the Leafs, up by three, allowed just seven shots on goal in the third period. Colorado wasn't given a chance to regroup.
"I thought it was a cleaner game," Leafs coach Sheldon Keefe said. "We got contributions from all four lines, all six defencemen, got saves from Murr (goalie Matt Murray) when we needed them.
Article content
"It's a good way to close out what feels like a long road trip, with the distance we travelled and three late flights to get into each city. It has been a challenge that way, and I like the way the guys got it done."
The Leafs, who started 2022 with a 6-0 home win against the Ottawa Senators last Jan. 1, went 57-21-11 in the calendar year. Only the Boston Bruins, with 65 wins, and Colorado, with 58, had more in the National Hockey League.
The Leafs are 8-0-3 in their past 11 visits to Colorado. They haven't lost in regulation here since Jan. 17, 2006.
The Leafs were better in the areas that Keefe identified after the loss against the Coyotes. They were harder on pucks, won more battles and backchecked with the kind of diligence that has become a hallmark of the team.
Article content
Still, Murray had to be sharp at times and finished with 26 saves.
Michael Bunting had two goals, including one into an empty net.
Nathan MacKinnon returned to the Avalanche lineup after missing 11 games with an upper-body injury, but he did not record a point.
After scoring late in the first period, the Avs couldn't carry the momentum into the second.
Ben Meyers was called for slashing Justin Holl at the eight-second mark, and the Leafs' five-forward, No. 1 power-play unit didn't take long to succeed.
Bunting scored at 34 seconds, beating Alexandar Georgiev from the edge of the crease.
Colorado got one back at 9:45 when the puck went over the goal line after hitting Auston Matthews' right skate. Defenceman Devon Toews got credit, and one of the assists was credited to Denis Malgin, who recorded his first point in five games with Colorado after being acquired from the Leafs.
Article content
Toronto scored two goals in a span of 24 seconds to chase Georgiev.
Matthews hustled to force Malgin into a turnover in the offensive zone, and then took a pass from William Nylander. Matthews was patient, waiting for Georgiev to commit before scoring at 15:00.
TJ Brodie then beat Georgiev with a floater, ending the goalie's night after he allowed five goals on 23 shots. That brought backup Jonas Johansson into the game.
The Matthews goal, just his third in eight games, was the 499th point of his NHL career in his 444th game.
"I've been fortunate to play on really good teams year after year and competitive teams," Matthews said on being on the cusp of 500 NHL points. "It's not as much of an individual accomplishment as it is a team accomplishment. I know myself and Mitchy (Marner, with 497 career points) are closing in on that, but we're working toward something bigger.
Article content
Matthews scored 58 goals in 2022, one more than what Connor McDavid had before the Edmonton Oilers played the Winnipeg Jets on Saturday.
The Leafs dominated in the first period, leading 2-1 going into the intermission with a 13-6 edge in shots on goal.
The lone blip came on the Avs' goal at 17:28. After a Leafs turnover in the neutral zone, J.T. Compher beat Murray with a shot to the goalie's blocker side that didn't look overly difficult. Murray was down a bit early and gave up the far side of net, making it an easy target for Compher.
The Leafs took a 2-0 lead on goals by Marner, who got the post-win belt, and Pierre Engvall.
Marner opened the scoring at 6:51 after fooling defenceman Andreas Englund with a stutter-step. Marner burst into a patch of open ice and beat Georgiev with a shot over the netminder's right pad.
Article content
Engvall scored at 9:27 during a delayed Avalanche penalty, burying a loose puck from the edge of the crease.
"Our details were a little better," captain John Tavares said. "I still think we can get to another level, but it has been a heck of a week.
"It takes a lot of effort and focus every shift when you're playing against defending champs. We regrouped from the other night."
MARLIES GO DOWN
The Toronto Marlies lost their final game of 2022 as they were beaten 3-2 by the Rochester Americans on Saturday afternoon.
Graham Slaggert and Bobby McMann scored for the Marlies before a crowd of 4,796 at the Coca-Cola Coliseum. Erik Kallgren faced just 13 shots in the Marlies net and made 10 saves.
With a record of 19-9-1-1, the Marlies remain in first place in the American Hockey League's North Division.